Sketchup – 5 Best Key Features You Need to Know
Sketchup Pro is the best industry leading software that is used in Civil engineering, ,interior design, mechanical engineering and film making industry. The Key features of Sketchup pro gives you an idea of the software in a short period of time. The Key features of Sketchup pro also helps the designers to create perfect 3D modelling and drafting.
SketchUp is a simple 3D modelling software.that is used by over 41 million professionals and Hobbyists. The user-friendly interface and low learning curve makes the software easy to learn. Now let us see the 5 best key features of Sketchup pro tool.
1. Push/Pull Technology
Sketchup 3D modelling software uses Push/pull technology or tool to convert 2D shape into 3D shape. Most 3D modelling software uses the Extruder tool to create 3D shapes, but here the push / pull tool is used separately.
Sketchup software reserves a US patent for this Push/pull technology. Since this is the simplest and time effective tool for 3D modelling.
2. Extension Warehouse
Sketchup pro uses extensions for advanced modelling, productivity and unique workflow. You can search and download over 750 Extensions or plugins from the extension warehouse. Extensions are third-party software that is available in free or paid versions, depending on the creator.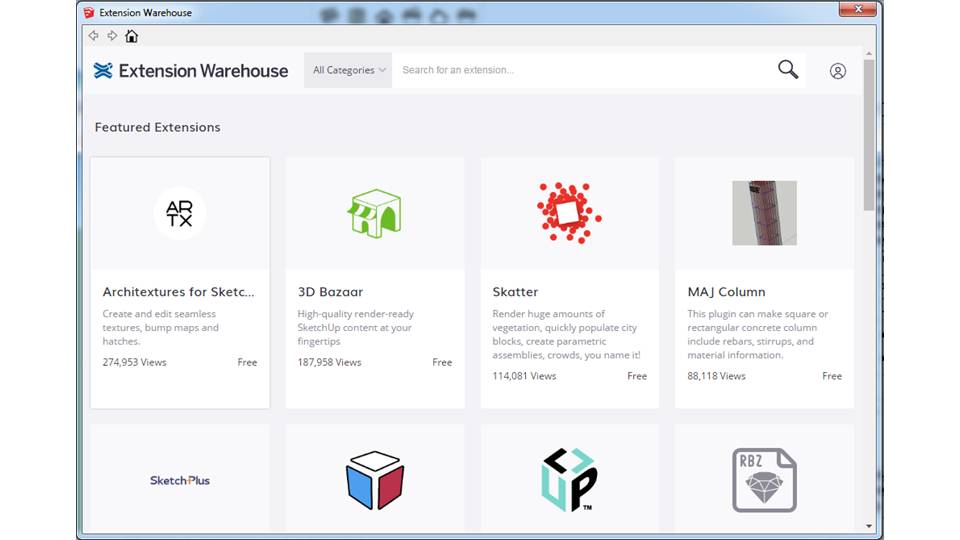 The Sketchup Pro, Studio version supports the installation of extensions from the warehouse. But the Sketchup free version does not support the extensions, because it only works on the web.
There is also an additional tool called extension manager that allows you to install,enable and update the extensions that were downloaded from the warehouse.
3. Sketchup 3D Warehouse
The 3D Warehouse in sketchup is the world's largest library where you can access 4 million + 3D models for your projects. Designers can also able to upload sketchup 3D models to the 3D warehouse. You can bring the 3D models from the library with the 3D warehouse tool available in the software. No download and internal storage is required.
This 3D warehouse tool is available on all versions of SketchUp Free, Go, Pro and Studio. All models in the 3D warehouse are free. But users need to create a trimble account to download 3D models.
4. Sketchup Animations and V-Ray
4 a. Animations
Designers can easily create animations from the 3D model in SketchUp Pro software. The generated animated scenes can be exported to image sets or video format. This animation gives the preview of Buildings, Malls, Theatres and Architectural layouts. The animation rendering time in Sketchup software is less compared to other 3D modelling software.
4 b. V-Ray
V-ray is a powerful rendering plugin designed by Chaos. This V-ray plugin helps the designer to create photo realistic scenes, animations and panoramas. This plugin also makes the visualisation with natural lighting, lens effects, depth of object and more. You can download the 30-days free trial version of V-ray from the extension warehouse.
Read Also : is Sketchup free
5. Sketchup Viewer
The Sketchup Viewer application offers the designers to view and modify the Sketchup 3D models on smartphone and tablet. This sketchup mobile viewer runs on both Android and Apple iOS format.
The accessibility of sketchup models in mobile helps the designer to explore their project to customers in real time. This Sketchup Mobile viewer application is available free with all versions like Sketchup free, Go, Pro and Studio versions.
This SketchUp Pro has many key features that allow the designer to easily create complex 3D models for their project. The above key features provide an overview of the software for beginners.