Celaction 2D – 5 Key Features You Need to Know
Celaction 2D is the powerful and industry leading software for creating high quality content. This software contains lot of powerful key features that helps to create TV Series, Award winning and Commercial films. Now a days many leading industries and professional animators prefer Celaction 2D for their animation work.
1. Skeleton Library
The character models, bitmap and vector images can be easily rigged into a skeleton model. This skeleton model is stored in the library for reuse purposes. This process saves a lot of time and helps the animator to speed up their project.
Celaction software has an advanced IK (Inverse Kinematic) Tool that helps to pose your character and model. Most of the time, the character and model mouth shapes need to match with the background voice. This lip sync process can be easily and accurately in a short period of time.
2. User Interface
This Celaction 2D has dockable tool panel that allows the animator to work on multiple monitors. This increases the productivity and ability to handle complex projects. This User interface has library tool to save assets like drawings, characters, skeleton models.
There are 60+ special effects to enrich the animation visually with minimal effort and time. Animators can able to create special effects and store them in library for reuse. This helps to increase productivity and saves time when dealing with complex projects.
3. Vector and Bitmap Drawing
This software does not have a separate drawing tool to create characters and backgrounds, Meaning drawing assets can be imported from preferred software such as Adobe Photoshop, TV Paint, Illustrator, GIMP etc… There is a facility to store these vector and bitmap drawing properties in the library for future use.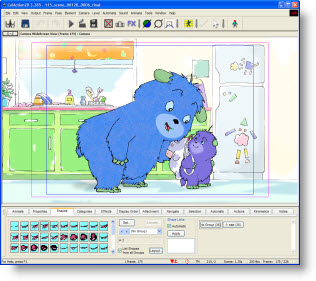 Scanned images and hand drawn sketches can be imported easily. There are powerful tools for editing the hand drawn sketches and animating them easily and quickly. Celaction 2D supports importing 3D CGI format and allows the model to be positioned anywhere in the workspace.
4. Rendering
The preview option available in this software allows you to review animation in low resolution. Celaction 2D allows animator to export SWF format for mobile and web applications. This software is designed to support 2D rendering and multiple camera views.
The 2D animation can be rendered easily at any resolution including PAL, NTSC, HDTV format. The latest version of Celaction 2D V4 has been released to meet the customer requirements when handling complex, high quality content.
The Celaction 2D runs on 64-bit versions of Windows 7,8,10. However, Celaction highly recommends the Windows 10 operating system for heavy production work.
Read Also : Celaction 2D Review – The Perfect Professional Animation Software
5. Celaction 2D Price
There are four Editions available to suit the market need. These are
a. Studio Edition
This Studio Edition is available only in Rental format. This is the latest and greatest version of the software with fully loaded feature. Most of the TV Series and feature films are made with the Studio Edition.
Rent for a year, the cost is $850 USD
b. Professional Edition
Perpetual License cost is $759 for year
This version is designed for smaller teams and professional animators.
c. Animator Edition
Perpetual License cost is $419 for year
This version is same as Professional Edition without any rigging tool.
d. Education Edition
This Edition is same as Professional Edition and can only be purchased by recognized educational institutions. Heavy discount are available on the professional Edition to encourage education.
You can visit the Celaction website here to know the exact cost of Edition.
This software has lot of key features that helps professional animators and large animation companies to create high quality content.
You can also read the top 10 Best 2D animation software list here.